DAWN: a framework to identify autism genes and subnetworks using gene expression and genetics
Received: 24 November 2013
Accepted: 3 February 2014
Published: 6 March 2014
Abstract
Background
De novo loss-of-function (dnLoF) mutations are found twofold more often in autism spectrum disorder (ASD) probands than their unaffected siblings. Multiple independent dnLoF mutations in the same gene implicate the gene in risk and hence provide a systematic, albeit arduous, path forward for ASD genetics. It is likely that using additional non-genetic data will enhance the ability to identify ASD genes.
Methods
To accelerate the search for ASD genes, we developed a novel algorithm, DAWN, to model two kinds of data: rare variations from exome sequencing and gene co-expression in the mid-fetal prefrontal and motor-somatosensory neocortex, a critical nexus for risk. The algorithm casts the ensemble data as a hidden Markov random field in which the graph structure is determined by gene co-expression and it combines these interrelationships with node-specific observations, namely gene identity, expression, genetic data and the estimated effect on risk.
Results
Using currently available genetic data and a specific developmental time period for gene co-expression, DAWN identified 127 genes that plausibly affect risk, and a set of likely ASD subnetworks. Validation experiments making use of published targeted resequencing results demonstrate its efficacy in reliably predicting ASD genes. DAWN also successfully predicts known ASD genes, not included in the genetic data used to create the model.
Conclusions
Validation studies demonstrate that DAWN is effective in predicting ASD genes and subnetworks by leveraging genetic and gene expression data. The findings reported here implicate neurite extension and neuronal arborization as risks for ASD. Using DAWN on emerging ASD sequence data and gene expression data from other brain regions and tissues would likely identify novel ASD genes. DAWN can also be used for other complex disorders to identify genes and subnetworks in those disorders.
Keywords
Autism
Risk prediction
Gene discovery
Weighted gene co-expression network analysis
Network
Hidden Markov random field
Neurite extension
Neuronal arborization
Background
That genetic variation affects the risk for autism spectrum disorders (ASDs) has been known for decades, yet only recently has the complexity of its architecture come into focus [1]. During the past few years a series of studies has been published, some analyzing copy number variants [2, 3], others rare sequence variants [4–9], and still others common variants [10, 11], whose data can only be explained if many genes are involved in the risk for ASD. Our recent work estimates this number to be about 1,000 [1, 9, 12], a remarkably high fraction of the known genes in the genome. To date, analysis of 1,043 ASD trios has identified a handful of the genes involved in the ASD risk. Extrapolating from these data would require exome analysis of tens of thousands of families to identify even half of the risk genes, an infeasible short-term goal with regard to sample collection and funding. Therefore there is an urgent need to advance ASD gene discovery through the integration of complementary biologically relevant datasets.
The complexity of the ASD genetic architecture raises challenges, but we anticipate there will be a discoverable organization to these genes that will pave the way for deep insights into genetics and neurobiology. Support for this conjecture comes from recent analyses [13–15]. A recent paper [14] has laid the foundation for these insights in two ways: by identifying brain gene expression networks as meaningful for organization and interrelationships of ASD genes; and by identifying the region and developmental periods in which these genes tend to coalesce to confer risk of ASD, specifically the mid-fetal prefrontal and motor-somatosensory neocortex (PFC-MSC). We reasoned that if this region were a critical nexus for the expression of ASD genes, it would be the perfect place to hunt for novel ASD genes. Thus we take the results from [14] further by integrating two key data sets, BrainSpan gene expression [16] and results from analysis of rare sequence variation [12], to identify genes and subnetworks in the mid-fetal PFC-MSC that likely underlie ASD risk.
To implicate genes in risk (predicted risk or rASD genes) we have developed an algorithm named DAWN (for Detecting Association With Networks, Figure
1
). Building on the logic that ASD genes cluster within a co-expression network [
14
,
15
], the algorithm identifies 'hot spots' within this co-expression network at which multiple genes with evidence of ASD association from the exome data cluster together. For these hot spots DAWN uses the evidence from neighboring genes to reinforce the ASD signal, while in 'cooler' regions the absence of neighboring genes with evidence of ASD association downgrades the signal. By modeling these data, DAWN identified 127 rASD genes (Table
1
), many of which are novel. By analyzing independently generated association data [
17
] for a subset of these rASD genes we validated DAWN by demonstrating its ability to delineate which genes will yield new
de novo
mutations and which will not. Importantly these results provide a framework for targeted resequencing of new samples to demonstrate involvement in ASD risk definitively and for neurobiological assessment of gene and subnetwork function. Moreover, this approach could be applied to other gene expression data in relevant tissues to identify additional subnetworks of ASD risk genes.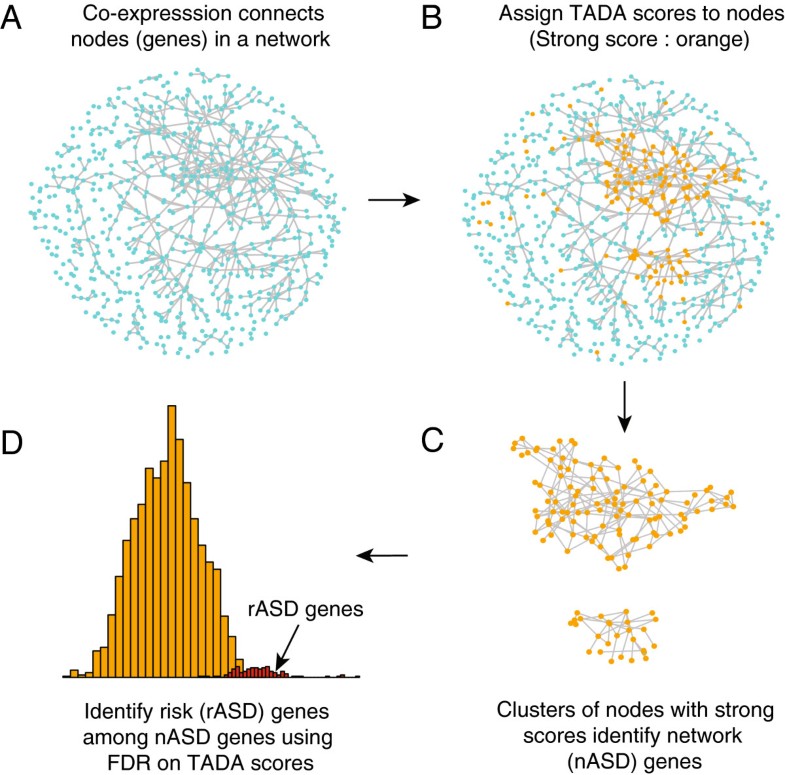 Table 1
List of genes predicted to affect risk for ASD (rASD genes)
Range of FDRq-values∗

Number of dnLoF mutations

0-0.0025

0.0025-0.025

0.025-0.05

>1

CUL3, DYRK1A, dGRIN2B, a,d

POGZ, SCN2A, aTBR1a,d

1

ADNP, dCBX4, CDC42BPB,

ARID1B, dATP1B1, BCL11A,

RIMS1 e

COL25A1, DIP2C, DDX3X,

CSTF2T, FOXP1, bITGA5,

LMTK3, MED13L, NFIA,

L1CAM, cNCKAP1, MBD5,a

RAB2A, PHF2, RNF38,

PCOLCE, SCP2, SHANK2, a

PPM1D, PRPF39, SETBP1,

SPAST, SMARCC2, TCF3,

TROVE2, UBR3, ZMYM2

UNC80, VCP

0

BANK1, C1orf95, ELOVL1,

AGK, ARSK, ATRN, BBS10, b

ACTL6A, ANKS1B, ASB8,

FCAR, LMCD1, SMC3,

BEND7, C2CD3, CD34,

BAHCC1, C1orf43,

PRIM2, PTEN, c,dSERINC5,

CHMP2B, CLDN11, CNOT1,

CASD1, CDC42EP4, DUSP14,

SMAP1, TNC,

CRY1, DCAF11, DHX29,

HCFC2, HIST1H3D, LYSMD3,

ZNF175, ZNF33A

DYNC1I2, EIF3G, F3, FBXL5,

MARK4, NAV2, PAMR1,

GDPD4, GMNN, HIST1H4B,

PCNX, PSMG2, RSU1,

KIAA1468, ITGB3BP, MAPK4,

SMPD3, SPRY1, TNPO3,

MCM5, MAPT, MARCO,

VASH1, ZNF410

METTL14, MRPS26, MRPL44,

MUDENG, NCOR1, NDUFB5,

NIF3L1, NR2F1, OR2AK2,

PCIF1, PDLIM1, RAD21,

RAD51AP1, RBBP9, REXO1,

RNF168, SCD, SLC22A15,

SMG7, SPAG17, STXBP1, c

TBL1XR1, dTSR1, ZFAND2A
Methods
Gene expression and co-expression
The data analyzed were produced as previously described [16] and based on the same quality control and quantile normalization. After total RNA was extracted from tissue samples, gene expression was assessed using the Affymetrix GeneChip Human Exon 1.0 ST Array platform (Platform GPL5175), yielding high-quality comprehensive data. The data were downloaded from the National Center for Biotechnology Information Gene Expression Omnibus (GEO accession number [GEO:GSE25219]). Expression data from the core probe set were used in co-expression analysis of most genes. For genes CHD8, FLG, FREM3, FRG2C, LMTK3, THSD7A, UBN2 and ZNF594, however, data from the extended probe set were utilized. We utilized measurements from PFC-MSC, analyzing 14,651 unique transcripts [16]. To investigate mid-fetal development we targeted post-conception weeks 10–24, which covers time periods 3–6 as defined previously [16]. In our analysis, we used two overlapping windows: periods 3–5 (post-conception weeks 10–19) and 4–6 (post-conception weeks 13–24) with 10 and 14 brains available, respectively.
Gene co-expression was measured by the Pearson correlation r between pairs of genes. To obtain the co-expression between a pair of genes X and Y, multiple observations of the joint expression of X and Y are essential. These replicates were obtained in two ways, by measurements of X and Y from different regions of the same portion of the brain, and from the same region in different brains. For periods 3–5 and 4–6 there were 107 and 140 replicates of expression per gene, respectively (Additional file 1: Table S1).
Gene networks
Gene networks were inferred from the pairwise correlation matrices using the software package Weighted Gene Co-expression Network Analysis (WGCNA) [18, 19]. A similarity matrix was calculated from the absolute correlation of gene expression (r) raised to a power. For each pair of genes, a topological overlap measure was calculated based on the adjacency matrix. From the implied dissimilarity between genes, average linkage hierarchical clustering was used to construct the dendrogram. Modules were chosen using dynamic cutting of the branches of the resulting clustering tree. We set the minimum module size to 30 genes and the minimum height for merging modules at 0.15. Closely related modules can be merged using the adjacency of eigengenes (i.e., the first eigenvectors of the expression matrix for a module). To capture salient features of the gene co-expression network fully, modules were built independently for each time span (3–5 and 4–6), and within each period of development modules were chosen using two different choices of the power parameter (1 and 6); see Additional file 2: Figure S1, Additional file 3: Table S2 and Additional file 4: Table S3 for details. The first step of the DAWN algorithm (Figure 1) involves evaluating these four representations of the gene expression data. Multiple representations are necessary because a single partition of genes into highly co-expressed modules fails to capture the full neighborhood of all genes; using multiple sets of modules avoids missing signals from risk genes that are on the boundary between two modules. The goal here is for every gene to have its nearest neighbors included in a common module for at least one partition of the genes.
Within each module we clustered highly correlated genes to create multi-gene nodes. For these analyses the tree was cut at height |r|=0.75 to yield the genes in a multi-gene node. Once the complete set of nodes was defined (both single-gene and multi-gene), a network was constructed by connecting nodes that are correlated at the next level of strength (|r|>0.7). We chose a threshold of r=0.7 for the network because it is a widely used threshold in the literature and it provided the desired network density. Specifically, we found that r=0.6 produced a very dense network and r=0.8 a very sparse network, each unsuitable for the proposed analysis. Our motivation for pre-clustering highly correlated genes as multi-gene nodes was to create a sparse network that was not dominated by local subsets of highly connected genes. By grouping these subsets of genes into multi-gene nodes, the broader pattern of network connections becomes more apparent. Naturally to work within the algorithm as a whole, the threshold for multi-gene clusters must be greater than 0.7. For r=0.8 only a small number of genes would be clustered, however, and therefore.75 was chosen as a compromise between theseextremes.
Genetic data from whole-exome sequencing studies
Transmission and de novo association (TADA) scores [12] (Additional file 5: Table S4) were calculated from the following data: all reported de novo mutations from 932 ASD families consisting of trios of affected offspring and two parents from four studies [4, 6, 8, 9]; transmitted rare variants from 641 of these families from two studies [4, 9]; and case-control data from the ARRA Autism Sequencing Consortium, consisting of 935 ASD subjects and 870 controls [20]. In addition we included two de novo loss-of-function (dnLoF) mutations obtained from a set of 44 trios [5] and 56 trios [14]. For a complete list of de novo variants utilized, see [14]. Each missense mutation was classified into a category of damage to the protein based on its predicted effect on the coding sequence using PolyPhen2 [21]. Loss-of-function (LoF) and 'probably damaging' missense variants were analyzed by TADA, both of which showed enrichment in probands for these data. In addition to finding strong statistical support for a few novel ASD risk genes [12], TADA found significant enrichment of genes with small P values compared with random expectation, indicating there are more genes affecting risk for ASD yet to be discovered, even from these genetic data.
The TADA
P
values were converted to
Z
-scores using the standard normal probability integral:
where Φ is the cumulative distribution function of standard normal distribution. Provided a gene is not associated with ASD, it follows without further assumption that the Z-score is standard normally distributed. When a gene is a risk gene, the Z-score approximately follows a normal distribution with mean μ>0. A Z-score is associated with each node. For multi-gene nodes this is the minimum P value of all genes in the node.
The DAWN algorithm
From a statistical perspective, DAWN is based on the 'screen and clean' principle [22]: first screen the data to find all potential signals (network ASD or nASD genes), and then using more stringent criteria, clean the list so that it includes only those signals that meet more traditional criteria for significance (rASD genes). This basic strategy has been shown to increase power and yet control error rates in a similar high-dimensional setting [22].
Screening stage
DAWN relies on a hidden Markov random field (HMRF) to identify clusters of possible risk genes embedded in the entire expression network (Figure 1, Additional file 6: Figure S2 and Additional file 7: Text S1). The true state of each node (rASD risk or not) is hidden, but the TADA score associated with gene node can be observed. Clusters of nodes with high TADA scores suggests that these nodes are likely associated with risk. The HMRF network algorithm works as follows: (1) genes are organized into highly correlated modules based on gene expression using WGCNA, (2) the adjacency matrix defines a network including edges between genes with absolute correlation exceeding a fixed threshold, (3) this model examines the initial signals provided by the node Z-scores to determine if high scores tend to be clustered in the network and (4) the fitted model then infers the missing label for a node, namely whether it is related to ASD risk or not. This label is determined based on the Z-score of the node and whether or not the node has many neighbors with large Z-scores. By using a number of computational approximations, including the iterative conditional mode, the model parameters can be estimated efficiently. Consequently we can estimate the probability a node is associated with ASD risk. For related literature, see [23, 24]. We use a posterior probability of 0.5 to identify nodes potentially associated with risk and call the genes in these nodes network ASD (nASD) genes.
As described earlier, tightly clustered genes are collapsed into multi-gene nodes. The adjacency matrix entries for these nodes are defined based on the average linkage between nodes. Each multi-gene node is assigned a node score defined by the minimum P value of all genes within the cluster. Finally, the HMRF analysis follows as for single gene nodes. In this way, the HMRF algorithm can be applied to a much smaller set of nodes with an adjacency matrix that is far less densely connected. Based on results from simulations and data analysis, it appears that the HMRF approach is more powerful at detecting clusters of risk nodes when multi-gene nodes are incorporated into the algorithm.
Cleaning stage
After running the HMRF model, the goal at this step is to winnow the nASD list down to a smaller set of genes that are highly likely to affect risk on the basis of the genetic evidence using a false discovery rate (FDR) procedure [25]. We call these probable risk (rASD) genes. To maximize power to discover rASD genes in subnetworks dense for genes affecting risk, we use a stratified analysis. Each large multi-gene node defines a stratum (more than ten genes), and we fit a Gaussian mixture model to the distribution of TADA Z-scores to estimate the fraction of risk genes present in the multi-gene node [26]. The larger this fraction is estimated to be, the larger the number of genes determined to be rASD genes. Thus this FDR procedure garners power by exploiting the heterogeneity inherent across multi-gene nodes and modules, while still controlling the error rate. Then, for all remaining nASD genes, which includes small multi-gene nodes, the distribution of TADA test statistics is evaluated by fitting the mixture model to the entire set of statistics (Additional file 8: Figure S3). The model is described in detail in Additional file 7: Text S1.
The DAWN analysis is performed for power 1 and power 6 modules and for periods 3–5 and 4–6 PFC-MSC. Thus there are four representations of the gene expression network. To select a unique set of rASD genes we use the minimum FDR across four representations.
Permutation experiments
To evaluate DAWN we performed two permutation experiments. Each sought to illuminate DAWN's performance by diluting the signal for association in two ways: (I) by separating small P values from risk genes and (II) by moving risk genes from clusters of genes with small P values. All of the permutation experiments were performed at the node level. Hence single gene nodes and multi-gene nodes were treated interchangeably in what follows.
Experiment I: diluting signals
1.

Randomly select a proportion l of nodes that have P values less than or equal to 0.1. The proportion l is set to be equal to 0.2, 0.4, 0.6, 0.8 or 1.

2.

Randomly select the same number of nodes that have P values greater than 0.1. Permute the P values of selected nodes with the nodes selected in step 1.

3.

Run the HMRF approach with the permuted data and estimate the parameters of the model. Record the number of genes identified that have at least one dnLoF variant.

4.

Repeat steps 1–3 20 times for each l.
Experiment II: diluting the clustering of signals in the network
Replace Step 2 above with the following:
2.

Randomly select the same number of nodes that have P values greater than 0.1. Permute the selected nodes (i.e., switch both the P value and the gene labels associated with the pair of nodes). With increasing dilution, this effectively removes the correlated nature of the signal.
Network score
To summarize gene
i
's position within the network, a network score was calculated as:
in which both variables are given hard thresholds (0 if correlation |r i j |<0.7 or if Z-score z j <1.2). The Z-score is obtained from the TADA P value.
Connectivity
To evaluate the connectivity of the rASD gene list we performed a permutation test. All genes expressed in the brain that fell within a module and had exome data were identified: 10,223 genes matched these criteria including all 127 rASD genes. The genes were sorted by mutability (based on size and GC content). Random lists of 127 genes were sampled repeatedly, with the constraint that they be approximately equal in mutability to the original list. We compared the mean connectivity of each list of 127 to the true rASD list to obtain a P value for connectivity.
De novo probability model
We estimated the probability that a true ASD gene has at least one dnLoF mutation in a sample of 2,500 trios by extrapolating from available trios. In a sample of 1,043 trios, 143 de novo LoF mutations were observed, involving 130 unique genes, with 9 genes incurring multiple events and 121 incurring single events [14]. Extrapolating this process to 2,500 trios we expect about 342 de novo LoF mutations, involving about 311 unique genes, with about 13 genes incurring multiple events and 298 incurring single events. Based on previous analysis, we anticipate about 50% of the single-mutation genes and most of the multi-mutation genes are true ASD genes [14]. Consequently, we predict approximately 162 (or slightly fewer) true ASD genes will have at least one de novo LoF mutation in a sample involving 2,500 trios. Assuming there at least 1,000 true ASD genes [12], each ASD gene, a priori, has approximately a 15–16% chance of having a dnLoF mutation in a sample of 2,500 trios.
Protein-protein interactions
A literature-based protein-protein interaction (PPI) network was constructed by combining interactions from the following databases: BioGRID [27], HPRD [28], MINT [29], IntAct [30], KEA [31], KEGG [32], SNAVI [33] and MIPS [34]. Only interactions from publications that reported ten or fewer interactions were retained. After combining the binary interactions from these databases by converting gene IDs to EntreZ Gene Symbols the biggest connected component was used for further analysis. rASD genes were seeded in this network and Dijkstra's shortest path algorithm [35] was used to extract a subnetwork that connected the seed genes using a path length of three (one intermediate and two links) [36]. The natural clustering of the obtained subnetwork was created using the organic layout of the graphic software yEd [37]. The relative local clusters were manually identified.
Functional enrichment analysis with Enrichr
Seed rASD genes from the identified clusters of the PPI network, together with the intermediates from each cluster, were fed into the online gene enrichment analysis tool Enrichr [38]. Enrichr has 36 gene set libraries and performs gene set enrichment analyses using Fisher's exact test (FET) with Benjamini Hochberg corrections [25]. We focused our enrichment analysis on functional annotation from gene set libraries created from the gene ontology (GO) [39] biological process (BP) tree, the gene ontology molecular function (MF) tree and the mouse genome information (MGI) molecular phenotype (MP) browser ontology tree [40]. Enrichr [38] and its accompanying databases are online [41].
Conclusions
DAWN offers a general approach to gene discovery, which can be applied to many complex disorders. The algorithm leverages genetic and gene expression data effectively to predict probable risk genes and subnetworks. Validation studies demonstrate that DAWN is successful in predicting the genes that will accumulate new dnLoF mutations better than any existing methods, underscoring the high likelihood that DAWN is finding true risk genes for ASD. The set of risk genes reported here provides further support for the theory that neurite extension and neuronal arborization play a key role in risk for ASD. Currently DAWN's findings are limited by the power of test statistics derived from available samples with exome sequencing. And yet this algorithm has already yielded a rich harvest of potential risk genes. Emerging ASD sequencing data, based on larger sample sizes, will greatly improve the quality of genetic information going into the algorithm, which will further enhance the power of DAWN to identify subnetworks of risk genes.
Abbreviations
ASD:

autism spectrum disorder
BP:

biological process
DAWN:

detecting association with networks
dnLoF:

de novo loss of function
FDR:

false discovery rate
FET:

Fisher's exact test
GO:

gene ontology
LoF:

loss of function
MF:

molecular function
MGI:

mouse genome information
MIPS:

molecular inversion probe sequencing
MP:

molecular phenotype
nASD:

network autism spectrum disorder
PFC-MSC:

prefrontal and motor-somatosensory neocortex
PPI:

protein-protein interaction
rASD:

risk autism spectrum disorder
TADA:

transmission and de novo association
WGCNA:

weighted correlation network analysis.
Declarations
Acknowledgments
This work was supported by National Institute of Mental Health grants MH057881, MH100233, a gift from the Overlook International Foundation, a grant from the Simons Foundation, and a grant from the Seaver Foundation. We thank the members of the Devlin and Roeder labs for thought-provoking discussion of the ideas presented here.
Authors' Affiliations
(1)
Department of Statistics, Carnegie Mellon University, Pittsburgh, USA
(2)
Department of Psychiatry, University of California, San Francisco, USA
(3)
Department of Genetics, Yale School of Medicine, New Haven, USA
(4)
Seaver Autism Center for Research and Treatment, Icahn School of Medicine at Mount Sinai, New York, USA
(5)
Department of Pharmacology and Systems Therapeutics and Systems Biology Center New York, Icahn School of Medicine at Mount Sinai, New York, USA
(6)
Ray and Stephanie Lane Center for Computational Biology, Carnegie Mellon University, Pittsburgh, USA
(7)
Department of Psychiatry, University of Pittsburgh School of Medicine, Pittsburgh, USA
(8)
Kavli Institute for Neuroscience, Yale School of Medicine, New Haven, USA
(9)
Department of Neurobiology, Yale School of Medicine, New Haven, USA
(10)
Child Study Center, Yale School of Medicine, New Haven, USA
(11)
Department of Pathology, University of Pittsburgh School of Medicine, Pittsburgh, USA
(12)
Program on Neurogenetics, Yale School of Medicine, New Haven, USA
(13)
Department of Psychiatry, Yale School of Medicine, New Haven, USA
(14)
Departments of Psychiatry, Neuroscience, and Genetics and Genomic Sciences, Friedman Brain Institute and Mindisch Child Health and Development Institute, Icahn School of Medicine at Mount Sinai, New York, USA
Copyright
© Liu et al.; licensee BioMed Central Ltd. 2014
This article is published under license to BioMed Central Ltd. This is an Open Access article distributed under the terms of the Creative Commons Attribution License (http://creativecommons.org/licenses/by/2.0), which permits unrestricted use, distribution, and reproduction in any medium, provided the original work is properly cited. The Creative Commons Public Domain Dedication waiver (http://creativecommons.org/publicdomain/zero/1.0/) applies to the data made available in this article, unless otherwise stated.