Leveraging blood serotonin as an endophenotype to identify de novo and rare variants involved in autism
Molecular Autism
Brain, Cognition and Behavior
2017
8:14
Received: 30 August 2016
Accepted: 10 March 2017
Published: 21 March 2017
Abstract
Background
Autism spectrum disorder (ASD) is one of the most highly heritable neuropsychiatric disorders, but underlying molecular mechanisms are still unresolved due to extreme locus heterogeneity. Leveraging meaningful endophenotypes or biomarkers may be an effective strategy to reduce heterogeneity to identify novel ASD genes. Numerous lines of evidence suggest a link between hyperserotonemia, i.e., elevated serotonin (5-hydroxytryptamine or 5-HT) in whole blood, and ASD. However, the genetic determinants of blood 5-HT level and their relationship to ASD are largely unknown.
Methods
In this study, pursuing the hypothesis that de novo variants (DNVs) and rare risk alleles acting in a recessive mode may play an important role in predisposition of hyperserotonemia in people with ASD, we carried out whole exome sequencing (WES) in 116 ASD parent-proband trios with most (107) probands having 5-HT measurements.
Results
Combined with published ASD DNVs, we identified USP15 as having recurrent de novo loss of function mutations and discovered evidence supporting two other known genes with recurrent DNVs (FOXP1 and KDM5B). Genes harboring functional DNVs significantly overlap with functional/disease gene sets known to be involved in ASD etiology, including FMRP targets and synaptic formation and transcriptional regulation genes. We grouped the probands into High-5HT and Normal-5HT groups based on normalized serotonin levels, and used network-based gene set enrichment analysis (NGSEA) to identify novel hyperserotonemia-related ASD genes based on LoF and missense DNVs. We found enrichment in the High-5HT group for a gene network module (DAWN-1) previously implicated in ASD, and this points to the TGF-β pathway and cell junction processes. Through analysis of rare recessively acting variants (RAVs), we also found that rare compound heterozygotes (CHs) in the High-5HT group were enriched for loci in an ASD-associated gene set. Finally, we carried out rare variant group-wise transmission disequilibrium tests (gTDT) and observed significant association of rare variants in genes encoding a subset of the serotonin pathway with ASD.
Conclusions
Our study identified USP15 as a novel gene implicated in ASD based on recurrent DNVs. It also demonstrates the potential value of 5-HT as an effective endophenotype for gene discovery in ASD, and the effectiveness of this strategy needs to be further explored in studies of larger sample sizes.
Keywords
Autism
Autism spectrum disorder
De novo mutation
Rare variants
Compound heterozygotes
5-HT
Serotonin
Hyperserotonemia
Endophenotype
Whole exome sequencing
Group-wise transmission/disequilibrium test
Background
Autism spectrum disorder (ASD) is an early-onset neurodevelopmental condition with an estimated prevalence of ~1 in 68 [1]. ASD is expressed across a spectrum of severity in two core phenotypic domains: persistent deficits in social interaction and communication and restricted, repetitive behaviors and interests. ASD is highly heritable, with an estimated heritability of 64–91% based on a recent meta-analysis [2]. The genetic basis of ASD, however, is complicated by locus heterogeneity for both common allele and rare variant effects. Although common variants in aggregate contribute to a larger proportion (~50%) of liability [3], genome-wide association studies (GWAS) with thousands of subjects have not found consistent, strongly associated individual common variants [4–9]. Rare de novo variants, including both copy number (CNVs) and single nucleotide variants (SNVs), play a significant role in ASD liability [10]. To date, dozens of genes harboring de novo CNVs and SNVs meeting genome-wide significance have been identified, and corresponding functional pathways and biological processes have emerged from analysis of these variants [10]. Despite advances in identifying ASD risk loci, major hurdles remain, since rare variants account for only a minority of cases, and effect sizes for common variants necessitate GWAS sample sizes many times those currently available. Data indicate that a thousand or more genes may contribute to ASD liability [11].
In addition to larger samples, another strategy to tackle heterogeneity leverages meaningful endophenotypes or biomarkers that demonstrate heritability [12, 13]. The hypothesis that endophenotypes reflect variation in a subset of the broader set of disease risk genes leads to the notion that the subgroup of cases that share the endophenotype is more genetically homogeneous. Thus, gene discovery in such a subgroup affords greater power compared with a similarly sized group from the overall disease population and in the case of molecular traits may provide a more direct path to functional mechanisms. Biomarkers and endophenotypes in ASD have drawn interest given the potential to facilitate earlier diagnosis and better prediction of prognosis or treatment response [14].
Hyperserotonemia, or elevated serotonin (5-hydroxytryptamine or 5-HT) in whole blood, is one of the most consistent quantitative traits and biomarkers in ASD since its identification in 1961 [15–18]. In particular, these studies reported a significantly higher 5-HT blood level in about one third of ASD subjects, compared with typically developing controls. The elevated 5-HT level, or hyperserotonemia, is observed in ASD but not in subjects with unspecified intellectual disability [19]. Whole blood 5-HT levels show intermediate elevation in first-degree relatives of hyperserotonemic probands [20–23]. While hyperserotonemia in ASD shows evidence for heritability, whole blood 5-HT also exhibited high narrow and broad heritability (0.51 and 1.0, respectively) in a Hutterite population sample [24]. Although the mechanism underlying the elevation of serotonin levels in ASD remains unclear, several lines of investigation point to a role for serotonin in ASD etiology [25–29]. In blood, greater than 99% of the serotonin is stored in platelets, which is taken up from the enterohepatic circulation by the serotonin transporter (SERT), encoded by SLC6A4, after synthesis in enterochromaffin cells of the gut. Linkage studies in ASD have implicated the 17q11.2 region harboring SLC6A4 [30–32]. Hypothesizing rare variants in the absence of significant allelic association at SLC6A4 led to the discovery of multiple functional coding variants [30], and in particular, the association of SERT Ala56 was supported in mice by the evidence that mice carrying the variant displayed alterations in social function, communication, and repetitive behavior and elevated whole blood 5-HT [33]. These findings collectively support hyperserotonemia as a powerful endophenotype for dissecting the genetic etiology of ASD.
In this study, we carried out whole exome sequencing (WES) in a collection of ASD parent-proband trios with 5-HT measurements collected through an Autism Center of Excellence (ACE) study to search for genetic variants implicated in ASD using serotonin as an endophenotype. Given that elevated serotonin was observed in ASD probands compared with their parents, we hypothesize that de novo variants (DNVs) and recessively acting variants (RAVs) play a key role in predisposition of hyperserotonemia and ASD. DNVs observed in probands, but not parents, which disrupt genes involved in 5-HT and ASD, should affect 5-HT levels only in probands; similarly, rare risk alleles acting in a recessive manner (i.e., RAVs) that are transmitted from parents to probands may lead to elevated 5-HT levels in those probands. Both DNVs and RAVs have been implicated in ASD [34]; however, the allelic architecture of hyperserotonemia in autism is unknown. We thus aimed to utilize this unique endophenotype in ACE trios to identify genes involved in both traits; an approach that we hypothesize effectively reduces genetic heterogeneity. Moreover, we predict that positive findings will shed light on what serotonin-related functional pathways are involved in ASD. Corresponding genes and proteins may offer insights into dysregulated CNS development and point to therapeutic strategies for ASD symptoms.
Results
Brief description of samples and sequence data processing
We sequenced the exomes of 133 trios as a part of the University of Illinois at Chicago ACE project. To avoid confounding our analysis with data from earlier studies, 17 trios that were included in previously published data [
60
] were excluded, and the remaining 116 trios were used in subsequent analyses. Detailed information on subject ascertainment and clinical assessment has been described elsewhere [
61
]. For this analysis, one subject with Fragile X syndrome was excluded but three subjects with clinically significant CNVs (
A2BP1
/
RBFOX1
deletion [
62
] (1.0 < WB5HT-z < 1.75), maternal interstitial duplication 15q11-q13 (Normal-5HT group), and
NRXN3
deletion (Normal-5HT group)) were included. Demographic and phenotypic data are summarized in Additional file
1
: Table S4. As expected, males were overrepresented with a ratio of 5.44:1 (male:female), which is comparable to the general ASD population [
63
]. Of the 116 analyzed trios, 107 probands, 72 fathers and 63 mothers had 5-HT measurements. An overview of analyses conducted in this study is presented in Fig.
1
.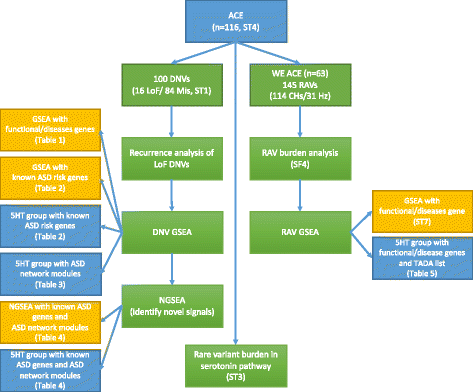 Analysis of de novo variants
Analysis of rare recessively acting variants
In parallel with DNVs, we hypothesize that the elevated 5-HT in probands compared to their parents is partially accounted for by rare recessively acting variants (RAVs), consisting of compound heterozygotes (CHs) and homozygotes. We focused on functional variants, comprising all LoF and Mis-D2 variants on autosomes with minor allele frequency (MAF) <0.01; we excluded X chromosomes in the RAV analysis due to its inapplicability in males. We used the phase-by-transmission algorithm to construct haplotypes in trios to achieve robust phasing for rare variants [40], and in total, we obtained 137 CHs and 42 homozygotes in probands, distributed in 155 genes. We combined both the CHs and homozygotes for the analysis of RAVs.
RAV burden associated with ASD
We first examined whether probands carry a higher burden of RAVs compared to their parents. As the number of RAVs in a given sample and across samples is influenced by sequencing data in complex ways, we normalized functional RAV burden using synonymous RAV burden as a baseline, assuming that synonymous variants do not (by and large) confer ASD risk. Results show that the burden of functional RAVs in probands is not significantly different from that in parents (Additional file 5: Figure S4). We further examined whether genes with RAVs in probands are enriched in functional/disease gene sets in ASD. After correcting for gene length, RAV gene sets showed no evidence to support enrichment amongst the various functional/disease gene sets (Additional file 1: Table S7), likely due to some combination of small sample size and predicted weaker effects of RAVs (relative to DNVs) in conferring ASD risk.
RAVs associated with hyperserotonemia
We applied GSEA to selected functional RAVs that, we envisioned, are more likely to be enriched in the High-5HT group ("
Methods
") on the same functional/disease gene sets, correcting for the gene length bias. We observed no significant enrichment among any gene sets, except a trend (
p =
 0.051) towards significance in FMRP targets (Table
5
). We then used a gene list corresponding to loci from a recent study of both transmitted and de novo variants in ASD [
11
]. Termed TADA-1, this analysis from the Autism Sequencing Consortium identified a set of 33 hcASD risk loci. Using this gene set, we observed significant enrichment for RAV-containing genes from this ACE sample (
p =
 0.03) (Table
5
). The significance level is not as striking as that observed for DNVs (Table
1
), likely owing to the smaller sample size of the WE subset of ACE and the weaker effect of RAVs compared to those from DNVs. Two genes, electron transfer flavoprotein beta subunit (
ETFB
) and reelin (
RELN
), from the TADA-1 comparison were found amongst the RAV gene set, and this remained significant after correction for gene length. We also carried out GSEA with a list termed TADA-2, an extended list of 65 hcASD risk loci (63 are expressed at early stages of brain development) which integrated small de novo deletions with data of TADA-1 [
10
]. We did not observe significance in this gene set (
p =
 0.34), with a possible reason that the gene RELN, which is one of the two overlapping genes in 33 TADA-1 hcASD risk genes, is not included in the 65 TADA-2 genes. Of note, RELN has been implicated in ASD based on numerous studies [
71
]. As a control, we also performed GSEA on the RAVs that are enriched in Normal-5HT group ("
Methods
"), and there is no enrichment in all functional/disease gene sets (Additional file
1
: Table S7). We further carried out network-based enrichment analysis of the candidate RAV genes, using the same two sets of network modules and did not observe the enrichment patterns observed for DNVs.
Table 5
GSEA of RAVs in the High-5HT group before and after correcting for gene length (italics: p < 0.05)
| | Before correction | After correction |
| --- | --- | --- |
| RBFOX1-1 (186) | 1 (0.413) | 0.5 |
| RBFOX1-2 (547) | 3 (0.204) | 0.57 |
| FMRP-1 (936) | 5 (0.126) | 0.68 |
| FMRP-2 (831) | 10 (9.108e−05) | 0.051 |
| ECGs (928) | 3 (0.497) | 0.95 |
| Hpsd (1429) | 5 (0.385) | 0.46 |
| PSD-95 (107) | 0 (1.000) | 1 |
| ARC (25) | 0 (1.000) | 1 |
| mGluR5 (37) | 1 (0.100) | 0.18 |
| NMDAR (59) | 0 (1.000) | 1 |
| Presynaptic active zone (204) | 0 (1.000) | 1 |
| Presynaptic (330) | 2 (0.242) | 0.24 |
| Vesicles (104) | 0 (1.000) | 1 |
| CRFs (55) | 1 (0.145) | 0.26 |
| HMEs (146) | 0 (1.000) | 1 |
| DEs (411) | 1 (0.695) | 0.57 |
| TADA-1 (33) | 2 (3.958e−03) | 0.03 |
| TADA-2 (63) | 1 (0.165) | 0.34 |
RAV burden in serotonin pathway genes
We then tested whether rare variants in serotonin pathway genes were associated with ASD by carrying out the gTDT. Because receptors represent one major category of proteins, we elected to select this functional axis as the basis for subdividing 5-HT-related genes for tests of transmission. Thus, we tested 5HT-receptor genes as one group and the remaining genes as the Non-Receptor group ("Methods"). We observed a significant over-transmission of rare functional alleles in the Non-Receptor group of genes (Transmitted: Non-Transmission = 26:13, p = 0.042), which largely encode presynaptic proteins (e.g., SLC6A4, ITGB3). In contrast to functional variants, synonymous variants exhibit approximately equal transmissions, consistent with the null expectation (62:60, p = 0.865). Functional variants in the Receptor group showed significant under-transmission (1:9, p = 0.021), although the total allele count is small. In contrast, there is no evidence for transmission distortion in the Receptor group for synonymous variants (28:36, p = 0.346). We also carried out gTDT on the gene set combining both Receptor and Non-Receptor groups and did not observe significance (p = 0.484).
Discussion
ASD is a genetically heterogeneous disorder with estimates of 1000 or more genes involved in disease etiology. This heterogeneity poses great challenges to identify individually significant risk loci. This challenge is particularly pronounced for DNVs, as mutation rates are extremely low to observe independent de novo mutations in the same gene in a given cohort. LoF DNVs in ASD probands, although rare, are likely to have large effects when predisposing ASD risk, and therefore more likely to identify risk genes. Accordingly, when recurrence of LoF DNM in the same genes is seen in a cohort of probands, it is a strong indicator of that gene's contribution to ASD risk. In this study, we have a very limited sample size compared to other consortium-level datasets, and unsurprisingly did not observe recurrent/independent DNVs in a gene within our data. Instead, we combined our DNVs with those from previous studies for recurrence analysis. We identified one new recurrent gene, USP15, as a novel ASD candidate gene, and provided further supporting evidence for two other known recurrent DNV genes (FOXP1 and KDM5B). FOXP1 has been linked to several cognitive disorders, and its deletion causes autism-like behaviors in mice [72]. KDM5B harbored LoF DNVs in each of two other study cohorts (two in SSC, one in ASC), and probands with KDM5B LoF DNVs were shown to have lower non-verbal IQ [64]. We note that de novo LoF DNVs in KDM5B were also observed in two unaffected (unrelated) siblings in the SSC, suggesting incomplete penetrance. USP15 acts as deubiquitinating enzyme on transforming growth factor-beta (TGF-β) and bone morphogenetic protein (BMP) stimulated R-SMADs (receptor-regulated intracellular proteins that transduce extracellular signals). We note that both TGF-β and BMP signaling are involved in differentiation of serotonergic neurons [73], but the role of USP15 in ASD is unclear. With accumulating ASD exome or whole genome sequencing being made public, leveraging previously reported DNVs is an effective strategy for clearly establishing the role of novel risk genes in ASD.
In this study, we implemented several approaches to tackle heterogeneity. First, we separated established ASD genes into network modules that likely represent more homogenous functions. The second was to leverage 5-HT as an endophenotype.
Genetic variants implicated in both hyperserotonemia and ASD are enriched in the subset of probands with hyperserotonemia so that we are equipped with increased power to detect ASD genes that function through regulating serotonin levels. Using this strategy in our data, we were able to identify novel candidate ASD genes not identified in previous large-scale studies that (we imagine) might poorly represent "hyperserotonemic ASD" risk factors. Although the significance is not striking in NGSEA, the non-overlapping LoF and Mis-D2 genes in the High-5HT group show enrichment in the same module (DAWN-1). In contrast, the genes harboring functional DNVs in the Normal-5HT group did not uncover new ASD genes in NGSEA, probably due to that fact that the majority of ASD patients have normal 5-HT, so that genes identified in previous large-scale studies are already more likely to represent the genes identified in the Normal-5HT probands studied here.
In this study we focused on DNVs and RAVs, two mechanisms that we hypothesized are involved in serotonin-related ASD genetic etiology. It is evident that signals due to DNVs are noticeably stronger than RAVs, presumably due in part to the larger effect sizes for DNVs and in part to the need to restrict analysis of RAVs to those from European subjects. For RAVs we observed significant enrichment with the TADA-1 list, which was derived by TADA's joint modeling of both de novo and inherited variants in a previous study [11]. We analyzed homozygotes and CHs separately, and it is the CHs, not homozygotes, that showed significant enrichment. For example, all of the RAV genes overlapping with the TADA list are CHs, among which two genes (ETFB and RELN) are in the High-5HT group and two, a lysine methyltransferase and a calcium channel gene, are in the Normal-5HT group (CACNA2D3 and KMT2C).
We note that the sample size of our study is small given the context of extensive genetic heterogeneity of ASD. For all association and enrichment analyses, we reported nominal p values without correcting for multiple testing. Varying degrees of dependency across tests makes adjustment for multiple comparisons a challenging problem, even when simulations are used to estimate significance empirically. Given the overall enrichment patterns in biologically relevant gene sets and pathways, our analyses provide promising candidates for further validation in large-scale studies.
Conclusions
Our study identified novel ASD genes and provided further support for previously reported genes harboring DNVs implicated in ASD. Leveraging 5-HT as an endophenotype, we identified novel candidate genes related to the TGF-β pathway and cell junction function as contributing to serotonin-related ASD risk. Our study demonstrated the value of 5HT as an effective endophenotype in identification of novel ASD genes, warranting the collection of 5-HT in probands for future ASD genetic studies.
Abbreviations
5-HT:

5-Hydroxytryptamine
ACE:

Autism Center of Excellence
ASC:

Autism Sequencing Consortium
ASD:

Autism spectrum disorder
CDS:

Coding sequence
CH:

Compound heterozygote
CIDR:

Center for Inherited Disease Research
CNS:

Central nervous system
CNV:

Copy number variant
CRF:

Chromatin remodeling factors
DAWN:

Detecting Association with Networks
DEs:

Differentially expressed genes
DNV:

De novo variant
Dscore:

Deleteriousness score
ECG:

Evolutionarily constrained gene
FMRP:

Fragile X mental retardation protein
GSEA:

Gene set enrichment analysis
GWAS:

Genome-wide association studies
hcASD gene:

High confidence ASD gene
High-5HT:

Group with 5-HT >1.75
HME:

Histone modification enzyme
Hpsd:

Postsynapse-related genes from proteomic profiling of human neocortical biopsies
LoF:

Loss of function
MAGI:

Merging Affected Genes into Integrated networks
Mis:

Missense
Mis-D2:

Missense variants with Dscore ≤2
NGSEA:

Network-based gene set enrichment analysis
Normal-5HT:

Group with 5-HT <1
PDN:

Propagation-based Distance in Networks
PSD:

Postsynaptic density
RAV:

Recessively acting variant
RBFOX1:

RNA-binding protein, fox-1 homolog 1
SNV:

Single nucleotide variant
SSC:

Simons Simplex Collection
WES:

Whole exome sequencing
Declarations
Acknowledgements
Expert technical assistance was provided by Kathleen Hennessy, Kelley Moore, and Zengping Hao. We would like to thank the individuals with ASD and their family members for their participation.
Funding
The UIC Autism Center of Excellence was supported by P50HD055751 (LD, SJ, NC, EC, JS) from NICHD/NINDS/NIEHS. Sequencing services were provided by the Center for Inherited Disease Research (CIDR) through X01 HG007235. CIDR is fully funded through a federal contract from the National Institutes of Health to The Johns Hopkins University, contract number HHSN268201200008I. The study was also supported by R01 MH089482 (JS), P50MH094267 (EC, NC) and a Lever Award from the Chicago Biomedical Consortium. The analysis of the data was supported by R01HG006857 (RC, QW, and BL).
Authors' contributions
RC, LD, NC, EC, JS, and BL conceived and designed the study. RC carried out the major analyses. LD and QW contributed to data processing. SG, SJ, and MP managed patient samples and clinical data. EC, JS, and BL supervised the study. RC, SD, EC, JS, and BL wrote the manuscript. All authors read and approved the final manuscript.
Competing interests
The authors declare that they have no competing interests.
Consent for publication
Not applicable.
Ethics approval and consent to participate
A description of the study was provided to all participants prior to obtaining written informed consent. The study and consent procedures were approved by the University of Illinois at Chicago IRB (protocol# 2007-0239) and by the Vanderbilt IRB (protocol# 010143).
Publisher's Note
Springer Nature remains neutral with regard to jurisdictional claims in published maps and institutional affiliations.
Open AccessThis article is distributed under the terms of the Creative Commons Attribution 4.0 International License (http://creativecommons.org/licenses/by/4.0/), which permits unrestricted use, distribution, and reproduction in any medium, provided you give appropriate credit to the original author(s) and the source, provide a link to the Creative Commons license, and indicate if changes were made. The Creative Commons Public Domain Dedication waiver (http://creativecommons.org/publicdomain/zero/1.0/) applies to the data made available in this article, unless otherwise stated.
Authors' Affiliations
(1)
Molecular Physiology & Biophysics, Vanderbilt University, Nashville, USA
(2)
Vanderbilt Genetics Institute, Vanderbilt University, Nashville, USA
(3)
Division of Genetic Medicine, Department of Medicine, Vanderbilt University, Nashville, USA
(4)
Department of Psychiatry, University of Illinois at Chicago, Chicago, USA
(5)
Department of Psychiatry, University of Minnesota, Minneapolis, USA